Meeting Recap – County Executive Laura Curran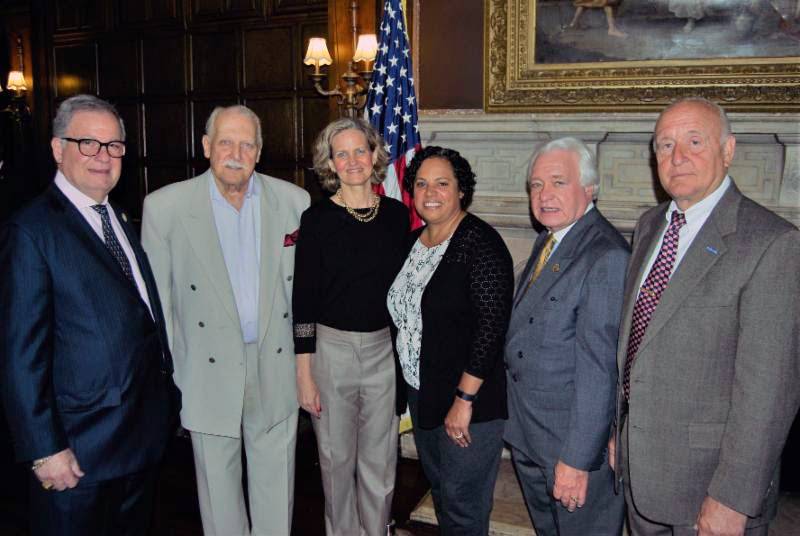 In an effort to boost the Nassau County tax base, Ms. Curran appointed a deputy county executive for economic development. She is also looking to promote some of the attractions that people may not be aware of, such as the Nassau County Museum of Art in Roslyn, the Holocaust Museum & Tolerance Center of Nassau County in Glen Cove, and Old Bethpage Village Restoration. When people visit these attractions, they spend more money, which is good for Nassau. Of its $3 billion in revenue, 40% comes from sales tax.
Ms. Curran expressed excitement with the proposed Belmont Park expansion with the hotel and arena, and the completion of the East Side Access tunnel, which will provide more opportunities for developing communities. She said she wants to see more TODs (Transit-Oriented Developments) to keep families and younger county residents on Long Island. She has seen this transformation at Mineola, Rockville Centre and Farmingdale.
One of the programs used by the county to promote TODs is Great Places, in which local areas seeking to become TODs will be given grants to help make that transformation. This is not restricted to downtowns; it is applicable to hamlets located in historic and waterfront districts. The county executive will work with local officials in those areas to help accomplish this vision.
As county executive, Ms. Curran said she will fix the roads. The county recently received money from the federal government to conduct a study on which county roads are in the most need of repair. There are 1,500 miles of county roads. The county also has a 24-hour pothole hotline in which motorists can report a pothole and the county workers will come out and fill it immediately.
Reform was one of Ms. Curran's campaign themes when she ran for county executive. In an effort to promote transparency, she created a new IDA that will operate more openly, removed county officials' names off all park signs and implemented an edict in which county employees cannot offer gifts to any contractors involved in the bidding process, nor can they be an active participant in a political party or donate to a political candidate's campaign.
On the subject of property assessments, Ms. Curran said she signed an executive order unfreezing the assessment rolls. In 2011, the assessment rolls were frozen; she said there was a wide disparity in these assessments, making them unfair and inaccurate. To fix this, the state Legislature established a Disputed Assessment Fund, which is an escrow account that pays out to those who successfully grieved on their taxes. During the time of the freeze, more than half of Nassau property owners grieved and 80% of them won. The problem with the DAF is that there is no mechanism to pay it out consistently.
By unfreezing the assessment rolls, Ms. Curran said, the properties will be back to fair market value by January 2019, but it will not happen immediately. For some properties, it will take time to be at fair market value.
The opioid issue has been a major subject among all elected officials on Long Island. Ms. Curran credited the new police commissioner, Patrick Ryder, for his work in fighting this epidemic. The police department has implemented a mapping system which provides real-time reporting on opioid overdoses and opioid-related crimes (such as burglary). As a result, the number of non-fatal overdoses decreased by 29%. She is working on a bill in which dealers would be held criminally accountable, while users who are arrested get help for their addiction.
In the Q&A period it was suggested that a thorough review of public transportation must be made and recommendations for trains, buses, and ferries must be considered if growth is to be embraced. Ms. Curran agreed.