October 21, 2022 @ 8:30 am - 10:00 am EDT
Candlelight Diner
56 Veterans Memorial Hwy
Commack, NY 11725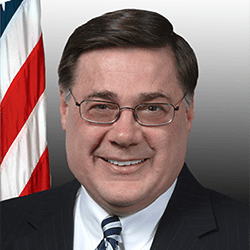 Biography
Ed Romaine is Brookhaven Town's 70th Supervisor, having been elected to that office during a special election in 2012, and re-elected with a 63% plurality in 2013 for a full two-year term.
Accomplishments
As Supervisor, Romaine has championed environmental and quality of life issues in Brookhaven Town, while strengthening Town finances. During his first year in office as Supervisor, Ed Romaine spearheaded legislation that will forever protect the Carmans River, which was unanimously approved by the Town Board and embraced by residents, environmentalists and the building community. He introduced a package of legislation that has strengthened the Town's housing codes, and aggressively prosecuted problem landlords that have impacted neighborhoods throughout the Town.
Ed Romaine also proposed Vacant Home Registry legislation to make the owners of abandoned homes more accountable, and will be bringing single-stream recycling to Brookhaven in 2014 – making the Town the leader in this technology on Long Island. In addition, Ed Romaine has reduced millions of dollars in pipeline debt and maintained the Town's strong credit rating, while also holding the line on total Town property taxes in his 2014 budget.
Community Service
Ed began his career in public service as a history teacher in the Hauppauge School District, where he taught for ten years. In 1980, he entered public service as the Town of Brookhaven's first Commissioner of Housing and Community Development and was later appointed Director of Economic Development.
County Legislature
Ed was a member of the Suffolk County Legislature serving from 1986 through 1989, where he was known as a fiscal conservative, sponsoring such cost-saving measures as the Suffolk County Tax Cap. Additionally, he established a record as a fighter for the environment by authoring Suffolk's first Clean Water Act. In 1989, he was elected Suffolk County Clerk and served for 16 years, taking an active role in increasing productivity and improving access to official records. Ed is recognized as a pioneer in government use of technology and was chosen "2001 New York State County Clerk of the Year."
In 2005, Ed Romaine was again elected to the County Legislature, representing the First Legislative District and re-elected in 2007, 2009, and 2011. As a county legislator, Ed preserved countless acres of open space across eastern Brookhaven, the North Fork and Shelter Island. He sponsored numerous pieces of landmark legislation including "Michael's Law," which banned explosive fuel gels; the state's first local law to regulate helicopter traffic; and established the LIPA Oversight Commission. In addition, Ed reduced the tax burden on residents by promoting smart government initiatives and real tax reform.
Personal
Ed Romaine earned a B.A. in History from Adelphi University and a Masters in History from Long Island University. He resides in Center Moriches with his wife, Diane.