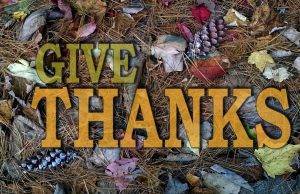 In the course of Saturday morning errands I went to my dry cleaner to drop off a few items. The man behind the counter is a Korean born, naturalized American citizen. As I was leaving he wished me a Happy Thanksgiving. My next stop was the gas station to fill my tank. The man pumping gas wished me Happy Thanksgiving in what I guess was a Turkish accent. I made a few more stops at the drug store and supermarket and again was wished a Happy Thanksgiving. I did not know each person's ethnicity or religion. In each case the sentiment was the same "Happy Thanksgiving."
The celebration of Thanksgiving is always special because it is universal. No matter where you came from or what religion you believe in or even if you have no stated religion at all, we all appreciate this one day in the calendar. While this day is not attached to any religion it appears to me to have a religious overtone that everyone can relate to.
The one liability attached to Thanksgiving is the discussions at the table. Your Uncle Louie tends to become unhinged about politics. No matter what you say in return you are not going to change his mind about anything. The better option may be to ask him why he feels the way he does, and thank him for his opinion. And then? Hey! Uncle Louie pass the cranberry sauce.
Happy Thanksgiving!
Ernie Fazio, Bill Miller, Marguerite Moore and Ken Nevor