Suffolk Police Commissioner Timothy Sini
June 23, 2017 @ 8:00 am - 9:30 am UTC+0
Courtyard Marriott
5000 Express Drive South
Ronkonkoma, NY 11779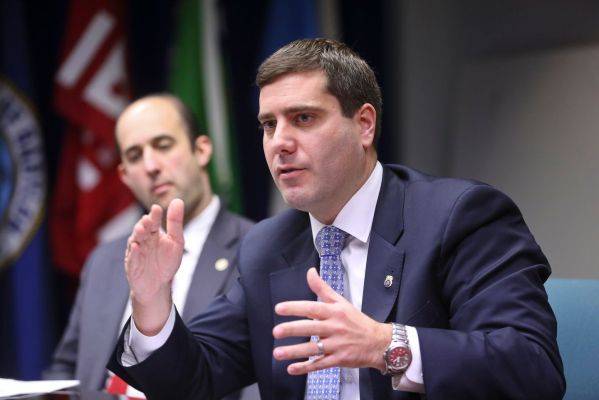 At 36, Timothy Sini is the youngest commissioner in the Suffolk County Police Department's history. The former Federal Prosecutor has never been a cop, but longtime officers in the 2,499-member department are praising Sini for his initiatives and his willingness to listen and learn.
Against the corruption backdrop of his predecessor, restoring the sense of steady and ethical leadership at the top of the organization was a priority for Sini, and was at the heart of one of his first tasks as commissioner: interviewing dozens of the department's brass.
Sini's signature mark has been his ease interacting with the community, said Noel DiGerolamo, president of the powerful Police Benevolent Association. By his staff's count, Sini has been to more than 150 community meetings in his short tenure. He started a series of new initiatives in his first year, from creating a team of officers to take illegal guns off the streets, resulting in a record 507 seizures in 2016, to starting a narcotics tip line to allow residents to alert police to drug activity in their neighborhoods.
Sini also made reforms to the department's Internal Affairs Bureau, giving it a stronger oversight structure, adding staff and ensuring cases are closed within six months. In addition, Sini has helped modernize the department, Giacalone said — bringing in programs such as the SCPD Shield, an information-sharing platform that Nassau police and the NYPD have had for more than a decade. Sini also re-established partnerships with the FBI, the U.S. Drug Enforcement Administration and other federal agencies.
Sini attended American University in Washington, graduating magna cum laude in 2002. He then got a law degree from Brooklyn Law School, finishing eighth in his class of 492 students. In 2006, Sini married Amanda, a midwife whom he had dated on and off since he was a teenager. The couple has three children.
Sini worked for a pair of corporate law firms in Manhattan and clerked for two federal judges before getting a federal prosecutor's job in the Southern District of New York in March 2010, working for Manhattan U.S. Attorney Preet Bharara. There, he spent 4 1⁄2 years prosecuting gang-related killings and what he said was the first federal prosecution of people selling bath salts, a designer drug.