Nassau County Executive Laura Curran
May 18, 2018 @ 8:00 am - 9:30 am EDT
NYIT de Seversky Mansion
1 Northern Boulevard
Old Westbury, NY 11568-8000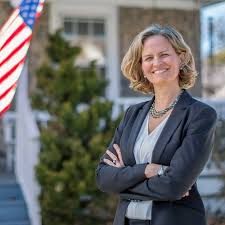 Join Nassau County Executive Laura Curran for a discussion on the critical issues facing Nassau. This event will be held at the DeSeversky Mansion on the NYIT Campus.
Laura Curran was sworn in as the Nassau County Executive in January of 2018. As County Executive, Laura wants to "root out the corruption that has plagued our County and give Nassau the fresh start it so desperately needs." Laura ran on a pledge to fix the mess in Nassau County by finally ending the decades of nepotism, patronage, and mismanagement that have wasted taxpayer dollars.
Laura was previously a Legislator from the 5th District, representing the communities of South Hempstead, Baldwin, Freeport, Merrick, Oceanside, and Rockville Centre. Her service on the Public Safety; Finance; Minority Affairs; Public Works; Planning, Development & the Environment; and Towns, Villages & Cities committees gave her the opportunity to ensure the communities she represents were more safe, healthy, and resilient.
Throughout her career in government, Laura has lived by a simple tenet: respect taxpayer dollars and make government work for those it serves.
This event is sponsored by Greenman Pedersen Inc.